History: Cascades and Telford Nightlife in the 80s & 90s
While many would think of Telford history as stuff of dusty books and etchings of men in stovepipe hats, part of the Telford Live History Project is to capture your memories from the 60s onwards, and the 80s is firmly part of that.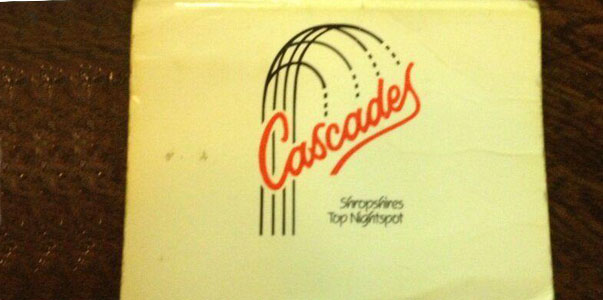 Last night on Twitter, Pete Jackson, who has a interest in using local history to help dementia patients in Telford, was in the local when a friend pulled a matchbook out of his pocket emblazoned with the logo of a local nightclub.  Who knows where his mates coat had been for the last 30 years but the matchbook photos got posted on twitter and the rest is history.
In the mid-eighties in Telford, there were a number of pubs and bars that every teenager went to. Some rose and fell quickly, some are no longer around.  If you have any photos in your collections, I'd love to see them. Here are my recollections:
Quenchers: This was the 'fun pub' attached to the Cascades nightclub.  It was the place to meet up before venturing into the club.  I recall going to Quenchers one Tuesday night with my girlfriend.  We were enjoying a drink right up to the point where the topless dancers emerged.
Cascades: The nightclub was the first modern club in Telford, probably in Shropshire in the 80's.  It's part of the Telford Shopping Centre so fairly central for everyone in Telford, although some recall getting turned away from the door because they lived on Sutton Hill!  It also had some not very complimentary nicknames, including 'Catch Aids'. Owned initially by John Bradbury, then bought by Ansells Leisure who then leased it to Punch Retail when it became Athena. Its been open an closed a few times, and is currently Club Crush & Vox, owned by Medlink Enterprises, a local business.
Film Exchange: The bar was situated in the then AMC cinema (now the Odeon). It was tiny.
Sawyers: This was an American theme bar (Tom Sawyer?) that served food as well as drink.  It was owned by Bass, and was full of USA memorabilia including a wooden canoe-type boat on the ceiling.  This only lasted a few years and is now Carpet Right/Allied Carpets on the Bridge Retail Park.
The Mill House: Often live music at The Mill House drew the crowds.  Unfortunately, many of the crowd were under 18 and the pub reputation suffered.
Several people have told me that it was remodelled into Frankie & Bennys.
The Ironmaster: The first pub at the Shopping Centre.  It was a portakabin with a bar.  Often frequented by heavy metal types, another venue for live music, mainly heavy metal which was popular at the time.  The pub was taken away and replaced with a Marks and Spencers.  Progress eh?
The Raven: For many years, the Raven was the place to be in Wellington. Nothing stood out about the pub, but it was inexplicably packed every weekend with all the right people. Greenhalls pub, probably serving Wrexham Lager and Grunhalle, which was a tasty a lager as it name suggests.  I stuck to Holsten Pils in them days, of Hoffmister if I were broke.
The Haygate: I kid you not that in 1986, this was a lovely place.  Wallpaper, nice carpets and furniture.  All the right people, and a regular stop on the pub circuit.  Still great now, but mainly for musical offerings.  Again a Greenhalls pub.
The Bridge at Trench: An estate pub, and even though I didn't live anywhere near Trench, I used to visit here often.  Occasional music kept us kids entertained.  Banks beer, so I drank lager.  Again.
Tipsy Cat: Over at Shifnal, many of the nicer crowd who could muster wheels or lifts, also some different people.  Microscopic dancefloor but great vibe and disco providing the music.
Boos: This was next door to the Tipsy Cat in what must be Nells now.  Similar to Tipsy Cat from what I can recall, although in all honesty, that isn't much.  Probably down to the lager.
LawleyFarmer corrects me.  Its where Oddfellows is now.
Updates:
Twenties: This was supposed to be for over 20 year olds but rarely the case.  Wall to wall TV screens in this place, and were talking CRT not flat screens.  MTV was in its infancy, but music videos were streamed through the venue.  Originally it was the Elephant and Castle at Ketley, and then Twenties, and now, Blue Elephant an Indian Restaurant.
Pisces: This was Telfords Wine Bar.  Top of Tan Bank in Wellington. It's now Dhaka Tandoori.  This place got packed out solid, and from memory, I never sat down once here.
Rumours: Nightclub was pushing it a bit, but it had a late licence and paid music.  If Cascades was a hotel, Rumours was a cheap hostel, Sticky floors, painted matt black inside and a distinct lack of furniture made this place a haunt of the desperate.  Before it was Rumours, it was The Barons Club which hosted some great bands in the 80s.  Someone has thoughtfully posted some old flyers on Flickr here. It suffered a couple of fires of dubious origin before closing its doors for good in around 1998. This is now a Church.  Yes, a Church. Market Approach in Wellington.
More Updates:
Hotshots: Situated where the 10 Pin Bowling is at Southwater, Hotshots shifted the bowling lanes and installed a DJ.  Although it was meant for over 18s, it is suggested that many who were younger were able to enjoy the delights.
Fast Eddies: What is now the Cuckoo Oak Hungry Horse at Madeley, was for two brief years an American style diner & pool emporium.  The local VW club used to meet there. More history here at the wonderful Madeley Local History website
Over to you!