Review: So Food, So Good!
Maple House on Hortonwood used to be the headquarters of mobile phone business Geko, but now the giant lizard has gone from the outside of the building, we went undercover to sample the food offered from the So Food diner that operates just inside and is open for all. Our lunch for a fiver stop for today.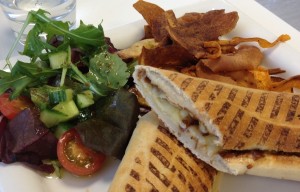 Earlier this year the building which had been long empty was granted a new lease of life as Mike Cosgrove took on the property and turned it into a multipurpose business centre by spending £250,000 on a refurbishment.
I spent 4 years working on Stafford Park and visiting ports cabins like Kens Snacks so my expectations were relatively low. I was expecting sausage chips & beans to be the dish of the day and the aroma of old chip fat bubbling away to be hanging in the smoky air. How wrong I was.
Parking out the front of the building, I walked in and followed the distinctive green logo around to the left down the quiet grey corridors to the diner. As we opened the doors around 12.30pm it seemed like we were the first in for lunch. A friendly greeting and a look around to the open kitchen and it was absolutely spotless. Not a crumb or a smear on the floor, the tables. We grabbed a menu, I was in a jacket potato mood. There on the list was a selection of very tempting paninis. I forgot about spuds.
I chose the Cheddar, field mushroom and red onion marmalade panini, served with home made crisps and dressed salad. A quantum leap from sausage chips and beans. I asked for mine without the mushrooms, and this was noted. Along with a coffee, total cost £4.15, well inside our budget. I grabbed a newspaper and sat down with my coffee. There is free wifi available too.
The food came on stylish square plates and was presented with thought an fitness. Little touches you don't expect for places like this and this sort of money. The root crisps were delightful & welcome, the salad & dressing delicious, and the panini was perfect. All in all an experience that I wasn't expecting, but was very welcome.
Take a look at the website for the menus.
So Food
Maple House
Queensway Business Park
Telford
TF1 7UL
http://www.sofood.co.uk