Telford & Wrekin Council Meeting 2nd May
Wow, these come round quick!  Another Council Meeting at 6pm on 2nd May and one that promises to be a little shorter than the budget meeting we covered last time.  Once again, the guys at http://www.lightmoorlife.co.uk are getting their cameras out to live stream it to Youtube, and I'm taking along a little gizmo that promises to improve the sound quality so you can hear what's going on a little more clearly.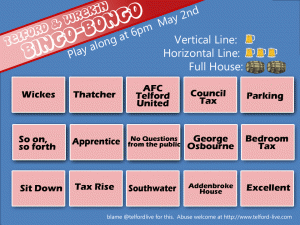 You might remember the last meeting where we produced a drinking game so you could have a little fun while  following the proceedings. On reflection, this was a little irresponsible.  We don't want to encourage too much drinking in Telford, so we made the game a bit harder and introduced a bingo theme to the game.  If you have children playing at home, remember to water it down a little.  Anyway, here's your card, eyes down and look in.
Wherever you are on Thursday night at 6pm, join in the fun on twitter using the #telfordwrekin hashtag, I'll be live tweeting the event with photos and fun.