Blocking Telford Travellers
A Telford-based precast concrete specialist is celebrating success after responding to an urgent client enquiry in record time, and preventing nuisance travellers setting up camp on Halesfield 19 Business Park in Telford.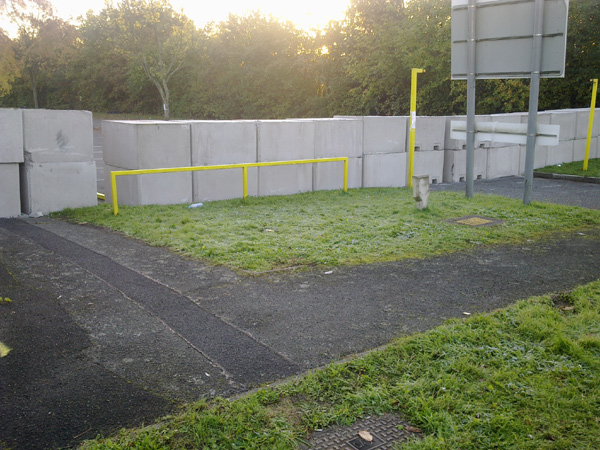 Elite Precast Concrete, who produce a variety of innovative precast concrete solutions for clients UK-wide, were called upon by a concerned business owner on the park to provide 28 two-tonne security barrier blocks, following reports that travellers had homed in on a nearby industrial site and caused thousands of pounds worth of damage.
Owen Batham, Sales and Marketing Director at Elite Precast Concrete, said: "We were contacted early yesterday morning [Tuesday 29 October] by a Telford business owner who was concerned after last week's injunction saw the travellers begrudgingly on the move. We had a two-hour window to get the blocks delivered to Halesfield 19 and close off a large staff car park.
"The blocks are absolutely ideal for added security and peace of mind. They're not only strong and durable, but can be easily moved by the client once it is safe to do so."
A spokesman from the Business Park commented: "Elite Precast Concrete has been an absolute lifesaver. They responded quickly and efficiently, not only protecting the site, but also ensuring that local businesses are not impacted. We can't thank Owen and the team enough."
Founded in 2008 by a team with more than 40 years industry experience, Shropshire-based Elite Precast Concrete Limited is the UK market leader in manufacturing and supplying interlocking and 'V' interlocking precast concrete blocks. By adopting an innovative and forward-thinking approach, both in its production processes and sales and marketing strategy, the company's precast concrete products are now used by a wide range of UK and international clients including local authorities, recycling businesses, and waste management firms, to build durable waste storage bays. The blocks are also heavily used in industries such as outdoor hospitality, transport, and construction, where they are utilised as kentledge – a form of temporary counterweight – to hold scaffolding, security fencing, and marquees in place.