Telford Jewellery Maker Poppy Success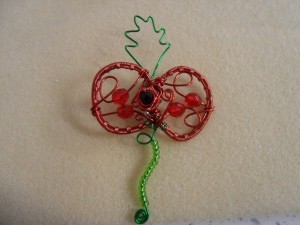 A Telford jewellery maker has raised nearly £80 for the poppy appeal by selling handmade wirework poppies.
Lesley Parr, who owns Lesley's Jewellery Box in Oakengates, was asked to make a poppy for one of her friends just over a week ago. Her friend loved it so much she posted a picture on Facebook and her friends started asking for them too. She has sold a total of 31 of the £5 poppies – each one taking about an hour to make – raising £77.50 for the poppy appeal.
"My fingers are sore, my hands are covered in cuts and I've been getting cramp in my wrist but it was worth it to be able to raise this much money for a good cause."