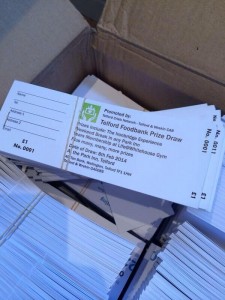 Julie is trying to raise £10k for Telford Foodbank.  Part of it will come through the Ball on the 8th of Feb, but the other half will be raised by selling raffle tickets at £1 each. There are some amazing prizes, but the best prize is knowing that you helped out someone less fortunate than yourself.
The cost of the tickets has been sponsored by Runtime and all the prizes have been donated by local companies. All money raised will be heading to the good cause.
Thank you to everyone who bought tickets.  Here are the winning numbers!
Raffle Prize Winners
1. 2 night stay for 2 / weekend break including breakfast at any Park Inn by Raddison subject to availability valid until 31.07.14
4608
collected
2. Year leisure premier membership life@whitehouse hotel Worth £360
4995
Collected
3. Ironbridge experience – inc overnight stay madeley court for 2 inc full English breakfast/afternoon tea at ironbridge antique centre/2 tickets ironbridge gorge to 11 museums valid for a year , ironbridge soap company gift set
3264
Collected
4. £50 iTunes voucher donated by C2G Hortonwood
0760
Collected
5. Dudmaston hall ticket
4639
Collected
6. £20 M&S voucher anonymously donated
2875
6a. 2 limited edition Matlock hare prints
1857
Collected
7. Amazon kindle donated by enta
2319
8. Dudmaston hall ticket
3744
Collected
9. Family Pass for Telford ice rink
0361
10. Champagne donated by Clearview security
4054
11. Dinner for 2 inc wine Plough inn shifnal
3527
Collected
12. £75 belly dancing tuition nikki
1611
Collected
13. £15  vouchers  at Steam angels
3731
Collected
14. £50 voucher Furrows car valet
4143
15. £35 pamper package – donated by Tranquillity & Nails  st George's
0372
16. Photo shoot with Andi li photography with print included worth £100
3658
Collected
17. 2 tickets to
An event at the butter market
3947
Collected
18. Litre bottle bacardi donated by Wayne Gubbins McTavish
4348
Collected
19. 4 tickets for show at the place Telford
2774
20. Sunday lunch for 2 at odfellows shifnal
0314
Collected
21. Bottle Champagne
3618
Collected
22. Meal for 2 at wing wah world buffet Wolverhampton
1025
23. Cuddly penguin
1363
Collected
24. Wrekin art  picture ironbridge worth £30
4873
Collected
25. Fragrance lamp & oil from J P Birstwhistle madeley
3267
Collected
26 Hire of silver threads hall donnington for children's party
0053
27  £50 gift card which includes a 1 hour photography shoot. njphotography.co.uk
4877
Collected
28 Jammy Cow gift basket & bag
0329
Collected
29 £15  vouchers  at Steam angels
0595
Collected
30 Bottle whisky – Henshalls insurance Newport
1447
Collected
31 Bottle rose/ white wine Wine
4226
Collected
32 Handmade home sweet home bunting from The Crafty Shed
0647
Collected
33 Luxury chocolates by Drop dead chocolates thanks to Jonathan Danby
4708
Collected
34 12 hand made bespoke cards voucher by pepper mill paper crafts
4735
Collected
35 2 bottles wine donated by clr Elizabeth Clare
1821
Collected
36 Lissan Harper red handbag £90
1404
Collected
37 Aga cook shop kitchen wear & aga shaped storage Tin
1431
Collected
38 handmade quilt by Linda Gough
1645
39 2  tickets donated by TADLOP May show to see Shop of horrors
4490
Collected
40 £15 Debenhams voucher donated by Dan Jones
4963
Collected
41 A Chicken cheque for Nandos Shrewsbury for a meal platter
0387
Collected
42 £15  vouchers  at Steam angels
4704
43 Std bottle Bacardi donated by bhakar Tomlinson solicitors
1077
44  Champagne donated  by Wayne Gubbins McTavish
0046
Collected
45. Wrekin arts – Alan lees
As high as an elephants eye print framed
3224
46. Wrekin arts – Alan lees
Butterfly  print framed
4681
Collected
47. Signed book by David D Mosano
The last words
1711
Collected
48. Gel manicure & follow up appt at Ali pink nails shifnal
1585
Collected
50.  voucher for afternoon tea at vintage tea room  oakengates
1052
Collected
52 tesco champagne
4993
Collected
53 AFC Telford Hospitality at home game for 4
3651
Collected
54 Zumba lessons with Amy
2342
55 £65 makeover
1242
Collected
56 1 week pass for Virgin Active health club Wolverhampton
4152
Collected