Elected Police and Crime Commissioners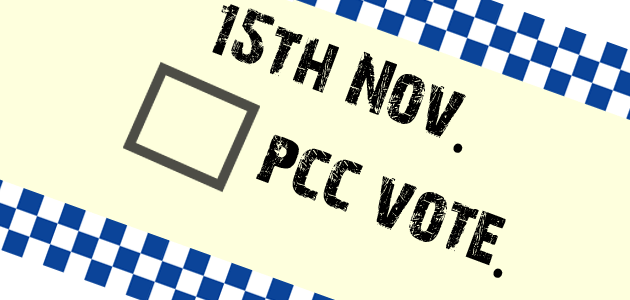 Big changes are afoot for how West Mercia Police is going to be run.  We've outlined what's happening and quick overview of the candidates in our own inimitable style!
What is happening?
On November 15th 2012, you will be given the opportunity to vote for your preferred candidate to effectively run and be accountable for the West Mercia Police.
This change sees the end of the current system where a board made up of mainly councillors . Representing Telford until the changes are Cllr Clive Elliot and Cllr Keith Austin.

What will the West Mercia Police and Crime Commissioner do?
The successful candidate will be expected to set the budgets, including how much is raised locally as part of Council Tax, and decide on policing priorities. They also have the power to decide who the Chief Constable will be. They will not be making decisions on who to arrest or have any influence on the day to day operations.  In return, they'll take around £75k in salary.
Who can stand as a Police and Crime Commissioner?
Well, you'll five grand in readies, 100 signatures and slick election campaign. No police experience required, in fact, no experience at all required and if you work for the police you are disqualified from standing. You've got to be over 18 and live in the area, and not have a conviction for anything imprisonable. Interestingly, Lord John Prescott is standing for this position in Hull, so its a good job that guy he thumped in Rhyl didn't press charges!
There are a load more here if you still fancy the job, but it's a bit late for this round. Bear in mind, that if you don't manage 5% of the vote, your five big ones are history!
Who are the candidates for West Mercia Police?
We have three candidates standing for election on 15th November:
Adrian Blackshaw (Conservative)
Adrian Blackshaw is a former Army Officer, now an organic walnut farmer  and councillor from Hereford. His profile from his website ( http://www.adrianblackshaw.org.uk/ ) says: "Adrian Blackshaw has broad commercial experience from working in a range of businesses. He has a track record over many years of forging effective partnerships in the corporate, private and public sectors. He currently farms in Canon Pyon in Herefordshire.".

Cllr Blackshaw is also on kinda on twitter http://www.twitter.com/@blackshaw4pcc
Bill Longmore (Independant)
Bill Longmore is a local councillor in Hanwood near Shrewsbury. Ex-Police Officer for 30 years, Ex-Business Owner and now at 74 has still not ordered his pipe and slippers just yet. His manifesto is online here and from the cover pic, it looks like he wants to beat the muggers with a golden baseball bat. Check out his very interesting background here: http://www.bill4pcc.co.uk

Also kinda on twitter: http://www.twitter.com/@bill4pcc
Dr Simon Murphy (Labour)
Dr Simon Murphy is a former Labour MEP (he quit in 2002) and lives in Worcester. His website (http://www.simonmurphy4pcc.com) is so crammed full of photos from his campaign trail, I think he has spent his £168k on mileage alone! I have to question his claim to keep politics out of policing. This is directly from his website: "I believe that David Cameron is out of touch and thinks you can cut crime by cutting police numbers. He promised change for the better – yet his attack on Police numbers will only make life better for criminals. Mr Cameron's 20% police funding cuts will make a minimum of 15000 officers redundant – 6000 of those from neighbourhood policing with 240 set to be cut from our local police. Labour is the only alternative to a Conservative Commissioner."

His LinkedIn profile suggests he already has 5 jobs, ranging from recruitment consultant to chair of finance trust.

Very much on twitter: http://www.twitter.com/@murphyslaw4ppc
What are the concerns of having an elected PCC?
Some commentators say that elections are a popularity contest and those with populist 'coppers on every street corner' manifestos saying what voters expect to hear are likely to perform better than those with a realistic 'trying to get a tough job done in tight budget'. Even worse, those with the backing of a political party and big spending campaigns are also likely to fair better.
Why are political parties involved at all?
Great question. I don't know. Each elected PCC has to swear an oath of impartiality on taking office, so you have to ask what is the benefit for the party that the candidate belongs to? The benefit for the candidate is clear – experienced campaign managers who can reach out to party members to get 'one of our guys' elected and help with the £5k deposit & 100 signatures. Oh, did I mention that the cap (otherwise known as how much it's likely to cost) on campaign spending in West Mercia is a whopping £168,000?
Have a look Make your own mind up. I'd be interested to hear from you in the comments section below. I'd also be interested to hear from the candidates themselves.
UPDATE: The Candidates came to Telford on 2nd November and Keith Osmund-Smith live-tweeted the event.  Read more…