Review: Krispy Kreme in Telford
Have you been Krispy Kremed?
I appreciate that this isn't a "restaurant review" in the traditional sense, but after my experience in the newly opened 'Krispy Kreme' store in Telford Town Centre yesterday I feel compelled to write it down and share it with others!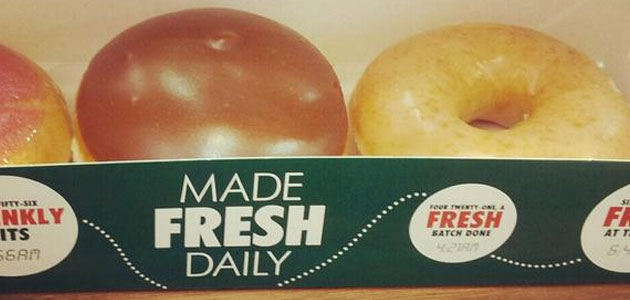 I arranged to meet my girlfriend "up town" to get some Christmas gifts and to spend some time together. I had a very tasty Croque Monsieur for lunch at Druckers (by Waterstones), but my voracious appetite meant that the temptation to try out the new Krispy Kreme doughnut store just a few metres away was awfully strong – too strong, in fact. Once we had completed our shopping for the day, we decided to give it a go.
As soon as we arrived, we were instantly accosted by a man (wearing a frankly stupid hat) thrusting a box of doughnuts towards us. I told him that we were about to queue up and buy some anyway, and he hastily retreated. Sadly, this aggressive style of customer service was to continue. Whilst we were queuing, another employee approached us and asked if we'd like our own Krispy Kreme hats to wear. "Not really" was my first thought, but to hopefully get rid of him I took one and shoved it in my bag, and my girlfriend took one too. I didn't really understand why we were offered free paper hats, but it wasn't really a problem until I realised that this employee…well….wasn't going away. He proceeded to talk to us about the dough in the doughnuts, whether it was our first time at a Krispy Kreme store, and various other things that irritated me a bit, considering that at the time I was finding it difficult to know what exactly to order. I knew my girlfriend only wanted a cup of tea and to share a doughnut with me, but it was tough to see how many doughnuts I could order and in what flavours, seeing as the signs up behind the counter started with the price for a box of 12 assorted doughnuts, and I certainly didn't want that many.
The lady who served me was very helpful, but her job wasn't really helped by the din that was going on around us. The lack of organisation on their part made the whole process a bit chaotic and confusing, as I had to shout my order at her, who in turn had to scream to someone down by the drinks machine that we wanted a black tea with our doughnuts. After navigating our way to the till, we took our sugary treats and our cup of tea to a booth which we were grateful to sit at. "Bloody hell" I muttered to my girlfriend. It had been a bit of an ordeal – and I can't imagine an elderly person enjoying the chaos too much – but thankfully the madness was over.
Except, amusingly, it wasn't. In fact, the true madness was still yet to come. After my girlfriend and I had shared a doughnut (which was a bit sickly but not bad) our friend who had given us the free hats came and sat down at our table. I honestly don't remember him asking if he could do that. He began to ask us more questions – "What do you think?", "How did you find the service" etc. Regrettably I am too polite to tell someone to "clear off", and I appreciate the young man probably has to do this as part of his job, and it isn't really his fault, but I found this all very aggressive. A quick "Is everything OK with your meal?" is very welcome when at a restaurant, but this was a little extreme. Worse was to follow, however.
"Have you had the magic moment yet?" he suddenly blurted out. I looked at my girlfriend, and she looked at me. What the….?! A second of stunned silence was followed by him clarifying what he meant – "The doughnuts – have you tasted the magic yet?" I was aghast. Maybe it's just me having a very dirty mind, but asking a young couple if they've "had the magic moment yet" doesn't sound great, does it? Was he unaware that we were together? Maybe, but when he handed us the paper hats back when we were queuing he could clearly see that we were holding hands.
After plying us with a survey and a "5 hot drinks and you get a free doughnut" coupon, he was finally gone. We stayed for a few moments longer, taking advantage of the free Wi-Fi on offer – a superb and welcome addition, I will happily acknowledge – before deciding to scarper before any more madness came our way. "Never again" I said to my girlfriend as we left.
When I got home I found out via the local paper that the Krispy Kreme had only opened a few hours earlier, this was their first day. It's fair to say that they had some teething problems, but hopefully those will go. You could tell that the staff there had been trained up to be "customer service orientated", and the first-day enthusiasm was obvious, but their OTT manner and "in your face" style just completely turned me off, and made me not want to go back. I can't help feeling that Krispy Kreme will do just fine without all the added silliness, and hopefully after a bit of feedback they'll alter their style a little.
Patrick Campbell