Review: The William Withering
Close your eyes and think of the word 'Wetherspoons'. Do you think of poor food, cheap beer and low rent punters? Time to throw out your preconceptions.  Our lunch under a fiver comes from The William Withering.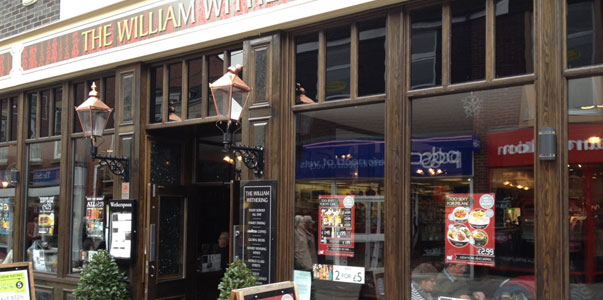 The William Withering opened in Wellington in 2011, the second 'spoons in Telford with the first being The Thomas Botfield at the Shopping Centre.  Same menu, which is all part of the appeal of the omnipresent chain.  A well run group brings a consistent hygiene regime and economy of scale that can be passed onto the customers.
The William Withering is a popular place. I visit often, probably too often for my size 36 waist trousers to continue being of much use, and the place is always busy. At lunchtimes, I have previously been unable to find a seat on one or two occasions.
The food is great value. I mean really great value. Burger and chips and a drink for £4.18. Cheaper than McDonalds, but with plates, knives and forks, and a smile.  The food is pretty good. I had a veggie burger, which is served on a bun, with a small salad, chips and pot of tomato relish. The portions are not huge, but more than filling for a lunchtime treat at these prices.
While not everything is priced this low, there are a number of choices available that mean you can eat here every day and not repeat a dish. Size 40 here I come.
The free drink that comes with the burger can be selected from a good range too, including pints of lager, cider and real ale, or branded draught and bottles soft drinks.
The pub was converted from a shop which itself had been converted from an older pub on the site called the George and Dragon. The conversion and refurb has been done to a high standard and the pub is almost like a mini Wellington museum, the walls and fittings featuring local history in the form of information panels and pictures, and even props.  A real fire completes the look.
Some people have mentioned the trek to the toilets. It is up some stairs and quite a way, but there is a disabled loo near the back of the pub too.
The William Withering is well worth a visit.  It opens at 8am too.
43-45 New Street
Wellington
Shropshire
TF1 1LU
http://www.jdwetherspoon.co.uk/home/pubs/the-william-withering