A controversial documentary about tax avoidance screened at a Telford church has been hailed as a success by local campaigner Lucy Allan.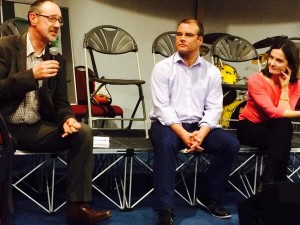 The screening at Dawley Baptist Church on Saturday 8th March was attended by prominent local figures including Telford Christian Council's Ecumenical Chaplain Keith Osmund-Smith, Jake Bennett from the Telford Crisis Network, and Kevin Newell the Christian Aid Representative for Telford Ecumenical Partnership.
Lucy Allan, a supporter of Telford Food Bank and the prospective parliamentary candidate for Telford, spoke about the film on a panel after the showing. She said: "The film was about an East London priest challenging the status quo and asking the difficult questions."
"We need more people willing to stand up for what they believe and who are prepared to make a noise."
The former chartered accountant, who used to specialise in saving failing businesses, said: "My strongest motivation for being involved in politics is that people need to be heard – to have a voice. Too often representatives from all parties become apologists for the State when they need to be champions of the people."
"I think tax avoidance is a vital issue to discuss and the documentary shines a light on an area most know nothing about. It is so important to challenge, question and scrutinise accepted norms and I'm really glad the Church is taking on this issue."
Also on the panel were Reverend Ian Oliver and Peter Kelsall from Christian Aid.
The film, UK Gold, focuses on tax avoidance and is told from the perspective of a vicar in London. The event was organised by Christian Aid. Find out more about the film here.