Concrete Company Set for Expansion
A Telford precast concrete company is celebrating a significant expansion of its premises which will enable it to significantly step-up its operations and output. 
Elite Precast Concrete has expanded its operations into a 7,000 sq ft unit adjacent to its current Kingsland facility headquarters in Telford, providing it with a dedicated production facility for a number of its new products, and in turn strengthening the business for future growth, which includes increasing its presence in international markets such as Holland, Germany and the Middle East.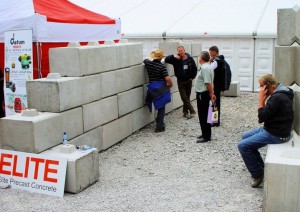 Owen Batham, Sales and Marketing Manager at Elite Precast Concrete, said: "Timing is everything and in this case it couldn't have been better. The additional space became available at the end of 2013, and it was an opportunity too good to miss. It has enabled us to bring forward our plans to have a dedicated production facility for manufacturing TVCB barriers, Jersey barriers and kentledge blocks. As the unit is adjacent to our current Kingsland factory, we will be able to enjoy operational efficiencies and production cost savings which as usual, we will pass onto our clients."
Elite is already the UK's largest manufacturer of precast concrete blocks in the UK, and is proud to offer its clients an unrivalled nationwide next day delivery service. The latest expansion follows a series of successes for the firm, which just last year saw it officially open its new state-of-the-art Kingsland facility, a 48,000sq ft site featuring manufacturing, workshop, and office space.
Owen continued: "We now have over 70,000sq ft of manufacturing space and more than two acres of stock yard, which will enable us to continue to increase our capacity, plus we will soon be launching our new interlocking security block range, so watch this space," he concluded.
Founded in 2008 by a team with more than 40 years industry experience, Shropshire-based Elite Precast Concrete Limited is the UK market leader in manufacturing and supplying free standing interlocking concrete blocks. By adopting an innovative and forward-thinking approach, both in its production processes and sales and marketing strategy, the company's precast concrete products are now used by a wide range of UK and international clients including local authorities, recycling businesses, and waste management firms, to build durable waste storage bays. The blocks are also heavily used in industries such as outdoor hospitality, transport, and construction, where they are utilised as kentledge – a form of temporary counterweight – to hold scaffolding, security fencing, and marquees in place.